Google refreshed the Nexus smartphones two days ago and both the
LG Nexus 5X and Huawei Nexus 6P
sound very interesting. The previous generation
Motorola Nexus 6
is still quite an attractive offer though, especially with its new price.
While the new Nexus 6P is retailing at $500 and is already on sale, we shouldn't retire yet its predecessor - the Nexus 6. It offers a 6" Quad HD AMOLED screen, Snapdragon 805 chip with 3GB RAM, and a 13MP OIS camera. And now you can have this for $299.99.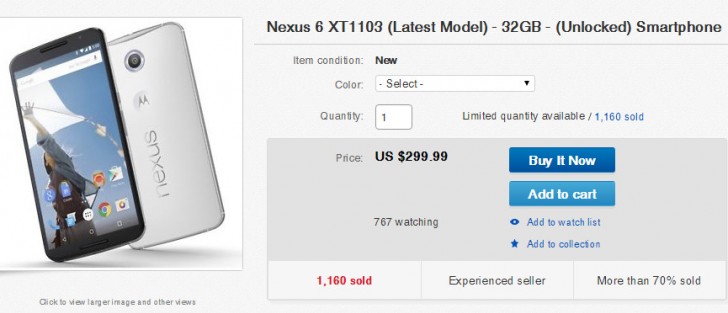 A trusted seller on eBay has already sold more than 850 units of the phone and the quantities are rather limited. Still, the phone is still in stock and you can have it right now.
We guess Motorola and Google will be lowering the official price down to a similar number in time for the Black Friday and the upcoming holiday season, so if you miss the offer now, we are sure there will be more opportunities.