Telephony and messaging
The iOS 9 Phone app hasn't changed a bit, but it supports 3D Touch, as we already discussed. A force touch over a contact does the same as Quick Contacts on Android - pops up a small balloon with quick shortcuts for call, message and email.
The phonebook does not support smart dial, but offers social integration. Blacklist is available for those needing this feature.
FaceTime is naturally available for all compatible iOS and Mac devices and allows you to make free voice and video calls to any other FaceTime-enabled device.
The same goes for iMessage - once enabled you can send free text and multimedia content, including voice-recorded messages, to any other iMessage-enabled Apple gadget.
Apple is also offering a new feature called Wi-Fi calling. If both parties support this service and it is on, the call won't be placed through the cellular network but the internet. This improves the audio quality and won't use your allotted monthly minutes.
As usual we've tested the loudspeaker performance of the new iPhone 6s. It is worse than the speaker of its iPhone 6 predecessor and scored a Below Average mark. The sound quality is very good though.
This means you should keep a close eye on your phone in noisy environments, or missing calls is a real possibility.
| | | | | |
| --- | --- | --- | --- | --- |
| Speakerphone test | Voice, dB | Pink noise/ Music, dB | Ringing phone, dB | Overall score |
| Apple iPhone 6s | 66.5 | 64.6 | 65.8 | Below Average |
| Sony Xperia Z3+ | 66.7 | 66.6 | 67.7 | Average |
| LG G Flex2 | 66.5 | 65.8 | 70.5 | Average |
| Apple iPhone 5s | 68.7 | 66.3 | 69.2 | Average |
| Apple iPhone 6 | 66.6 | 65.7 | 72.8 | Average |
| HTC One M9 | 65.2 | 64.6 | 76.1 | Average |
| Samsung Galaxy S6 edge | 69.7 | 66.5 | 73.5 | Good |
| LG G4 | 66.9 | 71.8 | 74.7 | Good |
| Motorola Moto G 3rd Gen | 75.7 | 69.6 | 75.9 | Very Good |
| OnePlus 2 | 75.7 | 73.5 | 80.7 | Excellent |
The messaging interface is kept the same since the iOS 8. It's 3D Touch-enhanced and you can get quick preview of your threads upon a firm press. The Mail app hasn't changed much, too, aside from the added force touch support and the new contextual menu with quick shortcuts for reply, forward, delete.
Finally, the iOS 9 keyboard looks the same though its QuickType predictive input has got a refined algorithm. Over time, the iOS will learn from your typing patterns, vocabulary, people you write often to and topics. It will eventually understand the subject of each thread and base suggestions on whether the communication is formal or casual.
Photos offers better search, 3D Touch support, Live Photos
The Photos app offers the same layout and interface we met for the first time in the iOS 8. Your pictures are organized by date and location, if available. The views you can switch between are Moments, Collections and Year - just like before.
Recently Deleted album is available in case you change your mind in the next 30 days.
The Search options in the Photos app has been improved with the option to search by location and date. And this applies not only for the Photos app itself, but Siri as well. That's really useful for those with lots and lots of photos on their devices.
What's a Live Photo? This is an option enabled by default in the camera app and shoots a small video clip (3 seconds) a 1.5s before and a 1.5s after you hit the shutter. We've already seen this on the HTC One and the Zoe feature and they are pretty neat, allowing you keep more lively memories.
We already mentioned the 3D Touch support. It allows you to preview both standard photos and Live Photos in the gallery. It's a pop-up with the picture and you can swipe it up for additional settings (Copy, Share, Delete).
The integrated image editor is really powerful and could improve your photos a lot. You should try and play a bit with it, it's among the best we've seen on a mobile device and while it may offer lots of manual tweaks, its automatic enhancement options are rather good, too.
Limited video player
Unfortunately iOS9 still hasn't done anything about the video player. You can upload only supported formats via iTunes or purchase videos from the iTunes store. This is an extremely disappointing showing by a platform that is supposed to excel at multimedia consumption.
The lack of extra functionality is bad enough, but having to use just an extremely limited number of media format or resorting to converting files, which is both slow and inconvenient, is a real deal-breaker.
Luckily there are many powerful video apps in the App Store, so you shouldn't worry that your iPhone can't be a powerful video player. With the right app, it does everything you'd expect a normal device would do - play any kind of videos, with subtitles, and you can even cast it on an external display.
Music with Apple Music support
The iOS 9 music player looks a lot like the one from iOS 8 - it supports (ad-supported or ad-free) iTunes Radio and iTunes Match, as well as iCloud Music library. It syncs with your computer's iTunes library, streams from your Match and/or iCloud songs, as well.
But in case that is not enough, there's also Apple Music now. The service can replace everything music-related feature Apple has launched to date and offer you pretty much the entire music world at the tip of your fingers.
Basically Apple Music does what Google Music or any other similar service does - allows you to stream songs, add them to playlists, and build an entire music library in the cloud. You can also download those songs for offline usage and unlike Google Music, Apple Music allows you to download single songs from albums.
The search option is useful and there is a good chance you can find all of your favorite songs on Apple Music.
Apple knew it can't compete with Google Music, Spotify or Microsoft's Groove by just adding the same features, so it tries to bring you closer to your favorite artists. In addition to smart suggestions, you can follow your favorite musician and make sure you don't miss any important updates from them. Apple made it easier for both the stars and the users to share social content and that's probably the biggest advantage over the competition.
Finally, the Beats 1 radio is available 24/7 and the tracks there are chosen by real DJs, not machine algorithms. Lots of people have been hooked on this idea already.
Apple Music is priced differently in different regions and is accessible from more than 100 countries across the globe. It offers a three month long free trial, after which you have to pay between $2.99 (some Asian markets) and £9.99 (UK) depending on where you live. A $14.99/€14.99/€7.99 per month family plan is also available, and this works for up to 6 persons.
Very good audio quality, not quite the best
The Apple iPhone 6s audio output is identical to that of its predecessor. Sadly that's not very good news as last year Apple took a step back in that regard, and unfortunately it failed to patch things up now.
When plugged into an active external amplifier, the Apple iPhone 6s posted excellent scores with the rather mediocre stereo crosstalk reading being the solitary exception.
Rather impressively, there's virtually no degradation when you plug in a pair of headphones. The spike in stereo crosstalk is so limited that in comparison, the iPhone 6s fares way better here than in the first test. Granted, there are phones out there that do even better, but that will only matter to the most extreme audiophiles.
In both cases, volume levels were above average although Apple used to be class leading here too and now it's just matching most competitors and falling behind the elite. Still, the overall output is very good and would please the majority of users.
Anyway, here go the results so you can do your comparisons.
| | | | | | | |
| --- | --- | --- | --- | --- | --- | --- |
| Test | Frequency response | Noise level | Dynamic range | THD | IMD + Noise | Stereo crosstalk |
| Apple iPhone 6s | +0.03, -0.04 | -93.5 | 93.5 | 0.0016 | 0.0075 | -73.2 |
| Apple iPhone 6s (headphones attached) | +0.10, -0.06 | -93.8 | 93.9 | 0.0030 | 0.101 | -68.2 |
| Apple iPhone 6 | +0.06, -0.02 | -94.0 | 93.9 | 0.0012 | 0.0065 | -73.4 |
| Apple iPhone 6 (headphones attached) | +0.11, -0.06 | -93.8 | 93.8 | 0.0022 | 0.099 | -65.1 |
| LG G4 | +0.04, -0.07 | -93.4 | 93.3 | 0.0021 | 0.050 | -92.6 |
| LG G4 (headphones) | +0.93, -0.13 | -91.4 | 91.9 | 0.013 | 0.244 | -50.4 |
| LG G3 (headphones attached) | +0.02, -0.09 | -93.7 | 93.3 | 0.0060 | 0.032 | -78.5 |
| Samsung Galaxy S6 edge | +0.03, -0.01 | -95.6 | 92.8 | 0.0023 | 0.0078 | -95.7 |
| Samsung Galaxy S6 edge (headphones) | +0.05, -0.02 | -92.6 | 92.5 | 0.0028 | 0.044 | -76.9 |
| Samsung Galaxy S6 | +0.01, -0.04 | -95.6 | 92.8 | 0.0024 | 0.0094 | -94.5 |
| Samsung Galaxy S6 (headphones) | +0.02, -0.05 | -92.6 | 91.9 | 0.0025 | 0.042 | -83.4 |
| HTC One M9 | +0.02, -0.06 | -94.8 | 93.0 | 0.0049 | 0.026 | -93.7 |
| HTC One M9 (headphones attached) | +0.03, -0.05 | -93.7 | 92.7 | 0.0082 | 0.030 | -91.6 |
| Sony Xperia Z3 | +0.02, -0.08 | -86.4 | 86.4 | 0.014 | 0.021 | -86.6 |
| Sony Xperia Z3 (headphones attached) | +0.29, -0.10 | -85.7 | 85.7 | 0.035 | 0.064 | -50.8 |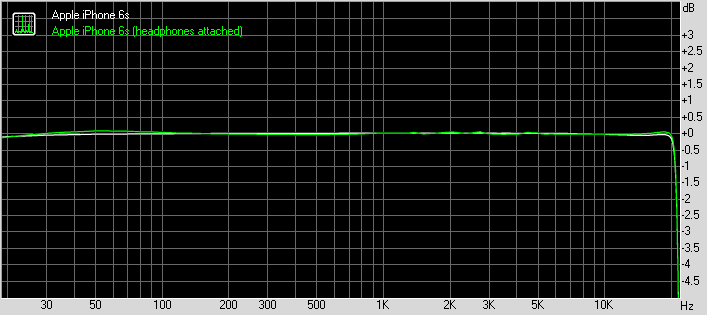 Apple iPhone 6s frequency response