Qualcomm's Snapdragon 810 chipset may have been
found to run cooler than the 801
in some parts, but it looks like it may be leading to some overheating issues after all. Specifically, we're talking about the HTC One M9, which employs the Snapdragon 810 SoC.
A Dutch website has tested how hot the handset gets while running the GFXBench benchmark, and then compared what it found to a few other high-end devices: the iPhone 6 Plus, HTC One (M8), LG G3, and the Samsung Galaxy Note 4.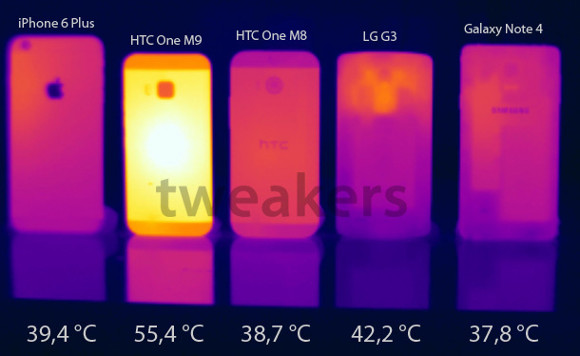 As you can see from the image above, which shows the infrared temperature readings for each handset, the One M9 is by far the hottest of the bunch. It was found to overheat all the way up to 55 degrees Celsius, at which point holding it becomes troublesome. The picture seems to show the maximum temperature recorded for each device, which means the Galaxy Note 4 was the coolest of these five units.
Interestingly though, it looks like the One M9 only reaches such an absurd temperature while running GFXBench. In 3D games such as Asphalt 8 or Assassin's Creed: Pirates HTC's latest flagship stayed around 42 degrees Celsius, which is significantly cooler than in the aforementioned benchmark. That said, it was still the hottest of the bunch even in games, as the other handsets all remained below 38 degrees in this use case.
An important thing to note is that the One M9 that was part of this test was running non-final software. That means HTC might mitigate these issues somewhat either in the shipping build for the One M9, or in subsequent updates.
Thanks for the tip, Paul G!