Image gallery
The Xiaomi Mi 4i comes with a custom Gallery app with slightly updated flat looks compared to MIUI v5. It defaults to your camera roll with two shortcuts at the top that will take you to album view of your local images and album view of your cloud pictures. You can't change this view, nor can you customize the default folders.
The available features when viewing a single image are pretty standard - share it, delete it, enter edit mode or just get more info.
The integrated editor offers various effects, frames, tools (crop, mirror, straighten, rotate, fisheye, doodle) plus light adjustments that let you bring out the shadows or the highlights.
Music player
The MIUI music player is a custom app with a well laid out, easy to navigate interface. It features twotabs - the first one is cloud music, similar to Google Music service provided by Xiaomi. It has similar subscription plans.
The second tab has your own local and cloud music.
The player has cool effects, transitions and transparent elements, especially on the expandable Now Playing section.
Xiaomi's Music app offers customizable equalizers with a few default presets already available for use. You can also try Xiaomi's MiSound enhancer, which comes into play when you use headphones, and especially, a Xiaomi-branded set.
Finally, you can edit song info and you can also enable automatic song info download in case the ID3 tags are empty. Lyrics can be downloaded, too.
Video player
Xiaomi Mi 4i doesn't features a separate video app, but you can use Explorer to find all of your videos.
The video player interface is very basic but there is rich video codec support. It managed to play everything we threw at it (including MKV and WMV files). The AC3 audio codec is supported too.
Subtitles and pop-up play are not supported by the MIUI's video player, though, so you might want to look around the Play Store if you need a more capable alternative.
Audio output is a very good
The Xiaomi Mi 4i did excellently when connected to an active external amplifier. Matching above average volume levels with spotlessly clean output, the Chinese midranger is certainly among the better performers out there.
Plugging in a pair of headphones lead to a moderate hike in stereo crosstalk but no other issues with the audio quality. Volume remains above average too, rounding up an overall very solid performance for the price range.
| | | | | | | |
| --- | --- | --- | --- | --- | --- | --- |
| Test | Frequency response | Noise level | Dynamic range | THD | IMD + Noise | Stereo crosstalk |
| Xiaomi Mi 4i | +0.02, -0.07 | -92.2 | 90.4 | 0.0041 | 0.011 | -93.5 |
| Xiaomi Mi 4i (headphones attached) | +0.03, -0.07 | -92.3 | 90.4 | 0.010 | 0.039 | -50.1 |
| Oppo R1x | +0.01, -0.04 | -93.5 | 92.9 | 0.0010 | 0.400 | -94.7 |
| Oppo R1x (headphones attached) | +0.22, -0.03 | -92.6 | 90.4 | 0.0029 | 1.144 | -69.8 |
| Sony Xperia M4 Aqua | +0.02, -0.06 | -89.0 | 90.1 | 0.0031 | 0.0096 | -90.6 |
| Sony Xperia M4 Aqua (headphones attached) | +0.12, -0.03 | -83.6 | 90.2 | 0.017 | 0.081 | -56.2 |
| Samsung Galaxy A5 | +0.02, -0.07 | -94.5 | 91.4 | 0.0044 | 0.012 | -93.8 |
| Samsung Galaxy A5 (headphones attached) | +0.23, -0.11 | -92.4 | 90.4 | 0.017 | 0.190 | -44.1 |
| Samsung Galaxy Alpha | +0.01, -0.04 | -96.6 | 92.8 | 0.0058 | 0.0091 | -97.1 |
| Samsung Galaxy Alpha (headphones attached) | +0.04, -0.01 | -95.7 | 92.7 | 0.013 | 0.033 | -65.6 |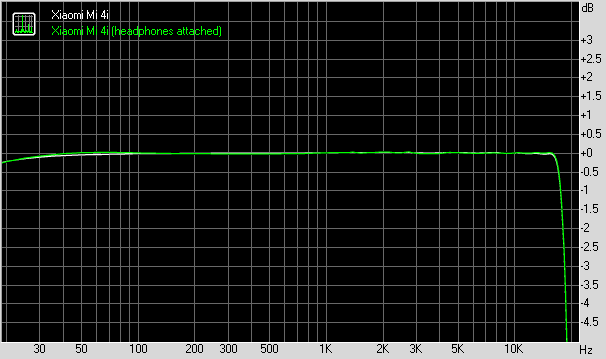 Xiaomi Mi 4i frequency response